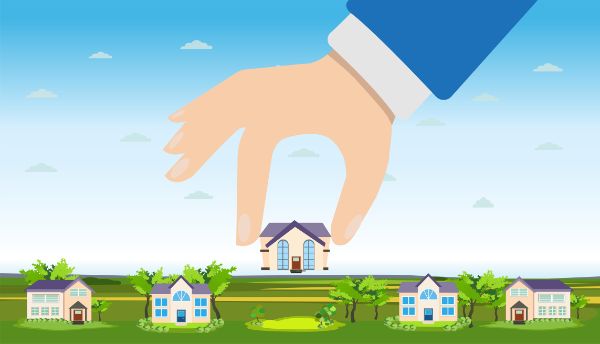 Halfway through the year and we're already starting to see a change in the market as both sales and price appreciation have slowed dramatically in Manhattan Beach and Hermosa Beach.
Nowhere is this more readily apparent than in the once red-hot Manhattan Beach single family home market where the year-over-year median sale price for the first 6 months of this year barely eked out a gain of 0.6% versus the first six months of last year on a 28% decline in sales.
Townhomes and condos in Manhattan Beach also saw a decline in sales but the median sale price did a bit better than single family homes, increasing 16.9% y-o-y.
Pictured here is the median-priced sale this year for all residential units (condos, townhomes and single family homes) in Manhattan Beach – 693 19th Street, an older 5-bedroom, 3312 sqft single family residence in the Tree section that closed in March for $3.1 million.
In Hermosa Beach, the median sale price for single family homes increased 8.3% in the first half of this year compared to the same time last year while the median price for condos and townhomes actually declined by that same percentage. Meanwhile, total sales for all residential units declined by 31.6%.
Sales Data – First 6 Months of 2021 vs 2022



Manhattan Beach

Type
Median Sale Price
 
Sales
 
Median DOM
 
2021
2022
Percent
 
2021
2022
Percent
 
2021
2022
Single Family Homes
$3,192,500
$3,212,500
+ 0.6%
 
184
132
-28.3%
 
9.5
8.0
Townhomes / Condos
1,689,500
1,975,000
+16.9%
 
50
35
-30.0%
 
16.0
7.0
All
2,969,000
3,100,000
+ 4.4%
 
234
167
-28.6%
 
11.0
8.0
Hermosa Beach
Type
Median Sale Price
 
Sales
 
Median DOM
 
2021
2022
Percent
 
2021
2022
Percent
 
2021
2022
Single Family Homes
$2,460,000
$2,662,500
+ 8.3%
 
72
56
-22.2%
 
9.0
8.0
Townhomes / Condos
1,825,000
1,673,000
– 8.3%
 
64
37
-42.2%
 
11.5
8.0
All
2,001,000
2,150,000
+ 7.4%
 
136
93
-31.6%
 
10.0
8.0
In the current environment of rising interest rates, you might conclude that higher mortgage rates are negatively impacting the market by mitigating demand and there is certainly some anecdotal evidence to that effect.
However, in this case, declining sales in the first part of this year may be a reflection of supply, or more accurately the lack of supply, as evidenced by a median Days on Market of just 8 days for both Manhattan and Hermosa, clear evidence of how quickly the sparse inventory was being snapped up.
When we covered this subject back in April (see Looking Ahead in 2022), inventory was at rock bottom levels in Manhattan Beach in the upper 20s and lower 30s for all residential units (single family, condos and townhomes) combined. We predicted then that inventory would increase by at least 50% later in the year and it looks like we're already there as total inventory of available residential properties of all stripes stood at 59 as we went to print. Hermosa has seen a similar improvement in available homes for sale of late.
As for demand, we'll see how that half of the supply-demand equation holds up in the second half of this year with the Fed projecting further rate hikes to tame inflation.